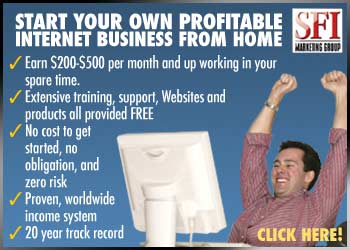 Anyone that knows me, knows that I am a pretty honest person with my thoughts and I attempt to tell it like it is. The reason I put up my own website is that I wanted to become a writer. To qualify that, I honestly wanted to be a full spectrum writer, and be able to write in any of the writing fields and see how I could do with my efforts. This means writing, ad copy, how-to articles, endorsements, news, and fiction. The problem for any writer is getting published. Now with the internet and all sorts of free services, someone interested in this sort of endeavor can flourish with self publication.
The problem is that many writers do not make much money from their work. From what I've seen on the internet is the trend is changing. Setting up your own website, participating in social network sites, and understanding the web and how to earn money from advertising allows any writer the avenue from which to earn money.
It's been said, if you want to be successful follow in the foot steps of successful people. With this website I am doing exactly that. Following the advice of those that have already been successful.
One of the steps in earning money off the web, is to insert advertising onto your site. It can be confusing who to work with, and how to work with them. So in my Ad Network pages I will advertise and list off the companies that I' working with to earn money.
As I grow my website I'm going to be signing up with other sites, and adding the code to my site. True to the mission of my site I will assist my readers with instructions on how to accomplish adding links and advertisement into your website. The term is called "monetizing" your blog.
In These pages I'm going to write up and offer links to advertising networks that I am using on my site, as time goes by I hope to update the pages with my earnings from each of the networks. In other words, I'll tell you if signing up for these ad networks is profitable!
Also, if you visit my Website Instruction  Blog, I'll assist you with instructions, and write up on the difficulties I've had with each of the ad networks and inserting the code into my site to get the look I want.
So please come back and take a look see what I'm adding, and what I go through to get it installed.