Affiliate Links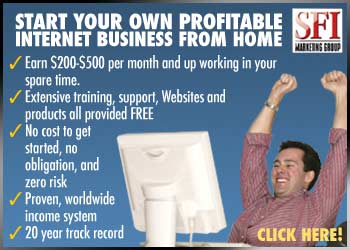 In these pages of my website I'm going to talk about affiliate links and the sub pages are a list of the affiliate websites I use, and why I like them and chose them for my website.
Many bloggers choose not to monetize their sites as they are dedicated to producing quality content for their readers and are not concerned with earning money from their blogs. While many other bloggers choose to include numerous affiliate links that they earn money from, and their readers can sign up with the same companies, and begin to earn money from their sites as well.
In the sub pages of my Affiliate section I discuss Clickbank, Linkshare, and Amazon. These affiliate sites provide products that you can advertise and earn commission from the sale of their products that you promote on your website. These are good sites to become join as an affiliate and they provide a variety of products that can suit the needs of your marketing niche you have chosen to blog about. However the income produced from these sites is limited to commission on product sales alone.
If you are really serious about producing a long term income you will need to learn about and work on developing residual income, and leveraged income. That is where SFI and comes in. SFI and it's associated product site Tripleclicks provides the opportunity to earn both residual income, and leveraged income. The residual income is earned by signing up associates that will earn you income off of their efforts and their associates, and leveraged income off of both yours and your associates product sales. This is a big deal because it offers the opportunity to build a real and lasting income, that can change our lives financially for the better. My Blog link on the left "Money Making Efforts" will track the details of my efforts in building SFI and my other affiliate opportunities.
Clickbank and Linkshare are good affiliate programs, and as an affiliate you can choose products that involve a recurring monthly payment, and build residual income off of product sales. So even though these sites do not offer leveraged income, and residual income off of associate effort, they do offer residual income in from product sales. So remember, always choose residual affiliate programs where possible as this will really grow your income over time, as your blog grows, and draws more traffic.
For those of you that know about network marketing and building down lines, this similar, but without the hassle of trying to talk to your friends and neighbors. Your down line gets built by the traffic to your site. You get to blog and write about what you want, and as folks visit and read your content some of them will join as affiliates through your links. This method makes giving presentations at your home, or some paid for location, while trying to sign up sales reps to build your down line, look cumbersome and obsolete. With a website people can be joining your opportunities day or night, without you having to speak with them and sell them on a product or service. It is really remarkable if you ask me!
If you visit my Website instruction blog I'll walk through the step by step processes with tips and tricks on how and where I add these links in my website. So if you have trouble getting any of them to display the way you want, my past efforts might benefit you.
Good luck, and god bless!